Wednesday saw the FSID change their name to The Lullaby Trust.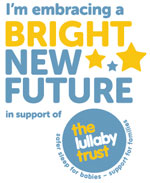 I asked fellow bloggers to write a post on that day with the theme of lullabies.
I was absolutely overwhelmed with the response.
I have been given so much strength these past 10 weeks by the blogging community.
I can never thank them enough for the kindness they have shown me.
For all they have said and done in memory of my beautiful Matilda Mae.
Our beautiful Star of the Sea.
You can read all of the #lullabytrust posts that have been written by reading the Linky here.
One of my many posts on Wednesday was a lullaby themed messy play post. The chosen lullaby was of course Twinkle Twinkle Little Star.
On Thursday we extended that play as we once again spent some special time remembering Matilda Mae.
This time we had much more warm water in the bowls. Esther was very clear that the water had to be warm. There was no doubt in her mind that she was getting in!
With sparkly water and floating stars we also added some funnels and other pouring tools from the bath.
William quickly got bored but Esther had a wonderful time.
Sitting in the water covered in stars, swirling the water, water beads and marbles to make a whirlwind, swooshing the lights to make a cloudy current of colour under the water and fishing for stars.
It was magical.
We made a sea full of stars for our Star of the Sea.
Here they are.
I will be writing more about this play in this week's Space themed Tales from the Tuff Spot.
Thank you to everyone who has linked up for The Lullaby Trust.
Thank you with all my heart x