For the last month or so
Edie has been playing with a wicker basket
Filled with lots of different balls
I have added to her treasure basket over the weeks
And she has loved getting to grips with the collection
Balls are a brilliant toy for babies
And there are so many different kinds available
It can be quick and easy to build a collection
Balls can be used in many different ways
To aid baby's learning and development
And to have lots of fun
They facilitate sibling and collaborative play
And are worth spending money on
As they are toys that will grow with your baby
My children are between 8 months and 8 years of age
And they all enjoy playing with our basket of balls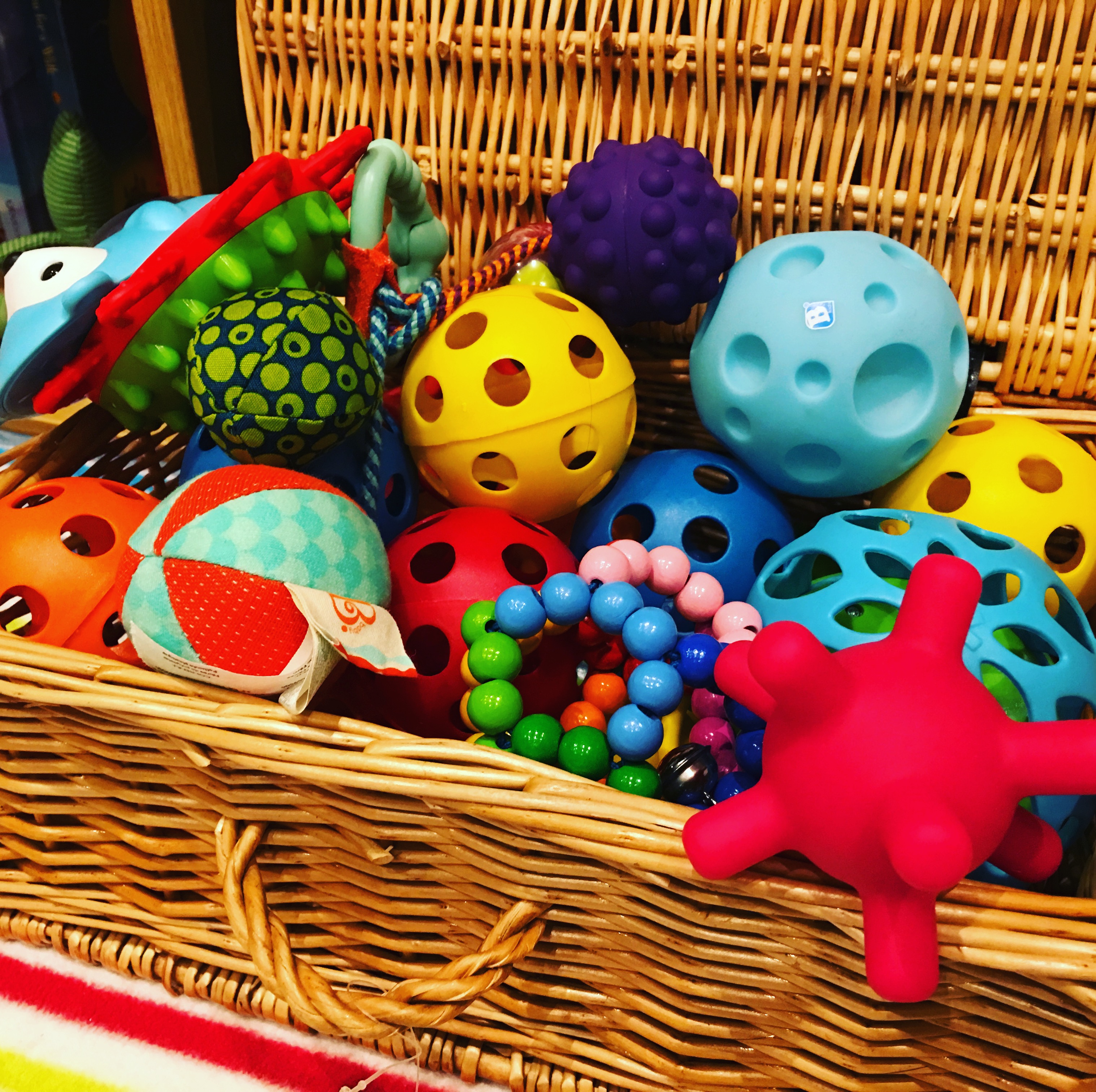 In the mornings I often put the basket on Edie's playmat
She loves to look through the balls
Touching them
Grabbing them
Grasping them
Running her fingers over them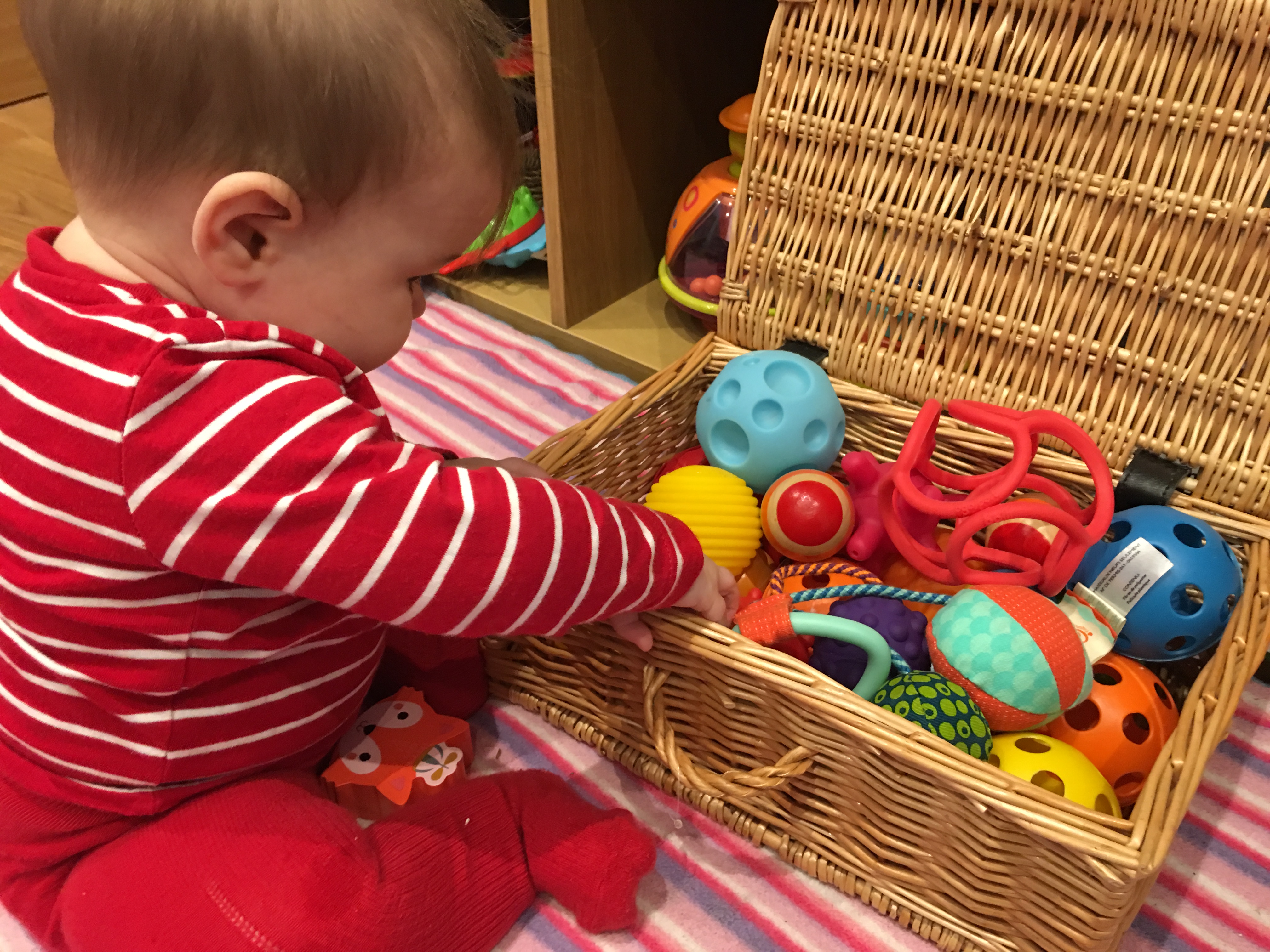 She will often choose a ball
And play with it
Passing it from hand to hand
Feeling the shape
The texture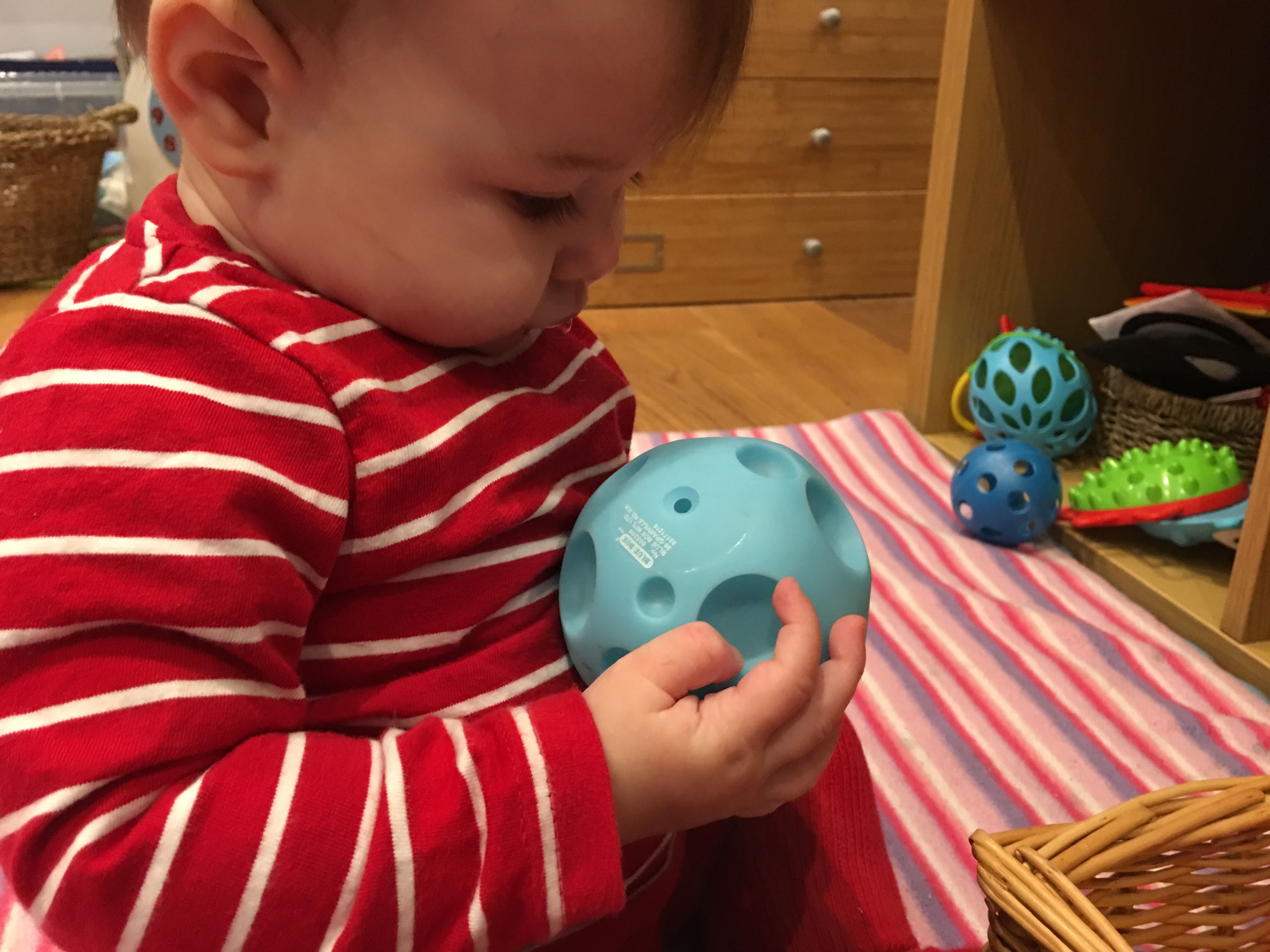 More often than not the ball will end up in her mouth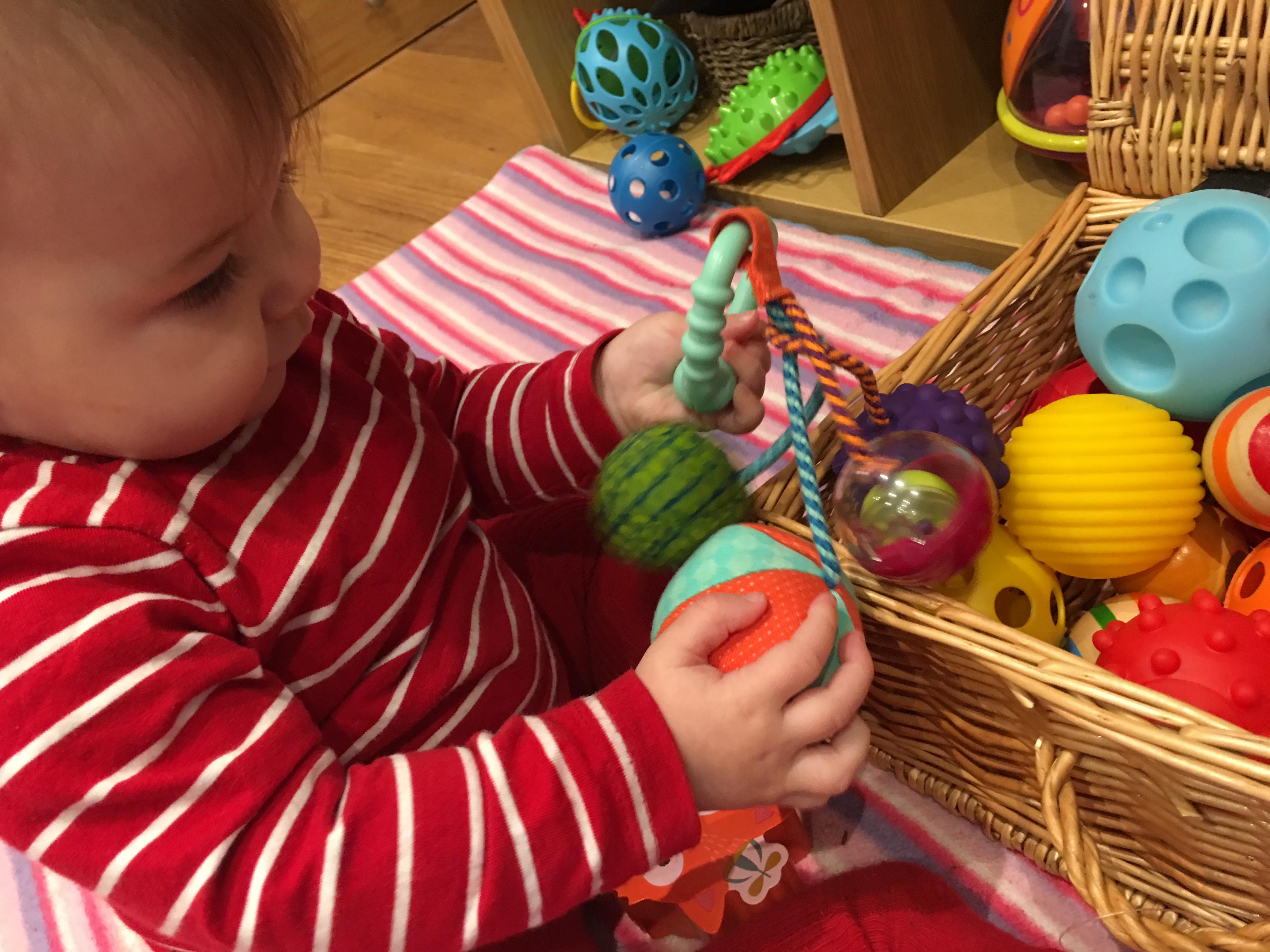 Within the treasure basket of balls
I have placed balls made from different materials
Balls of different colours
Plain and patterned balls
Balls of different shapes and textures
Balls with spikes and knobbly bits
Balls that can be squashed
Some that roll and some that do not
Balls with sounds
Balls without
I have tried to make a collection that offers lots of different sensory experiences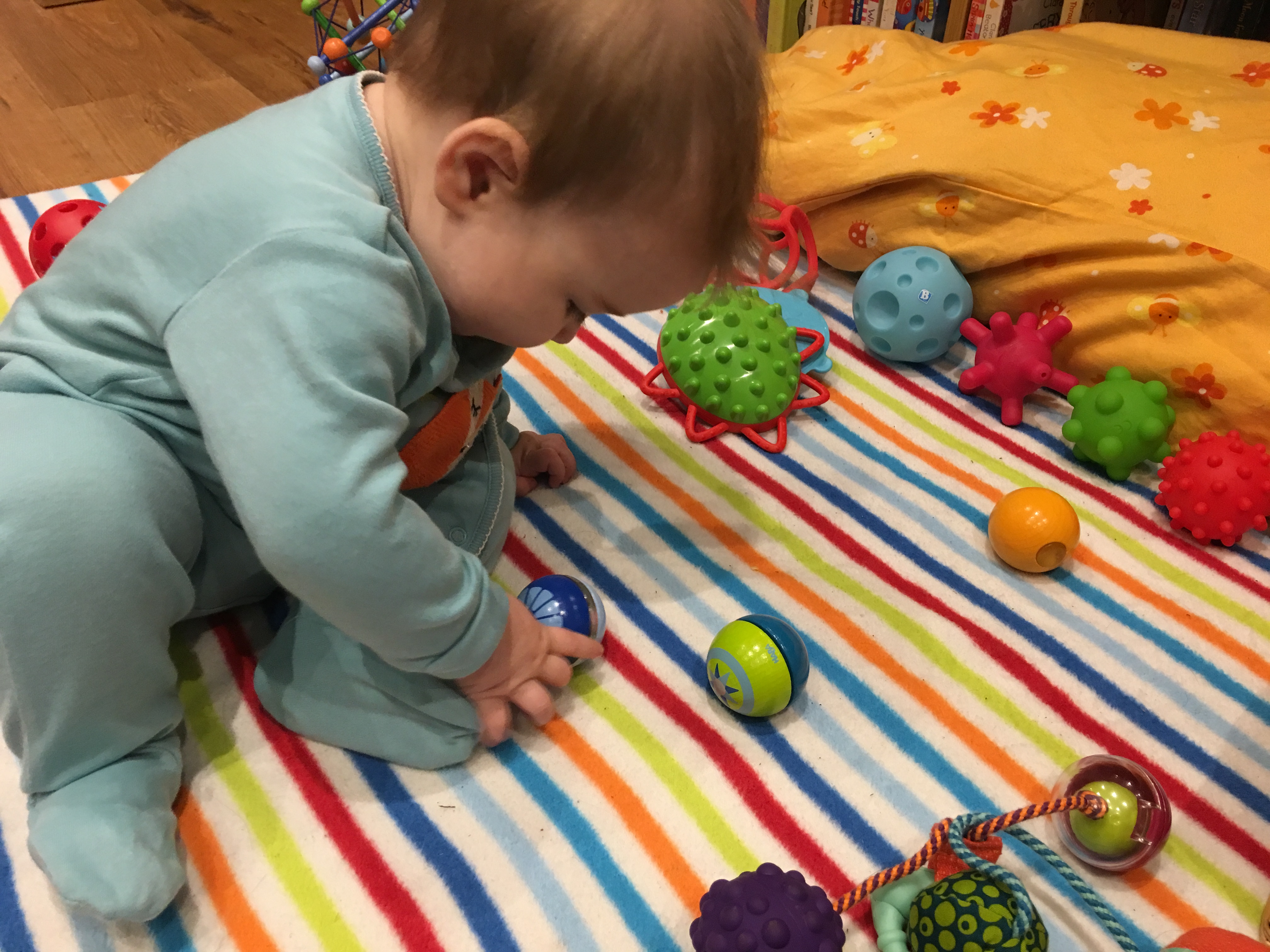 Balls offer much more than a treat for the senses though
Ball play helps babies develop their grasping skills
It helps to strengthen eye-hand coordination
Tracking and finger muscles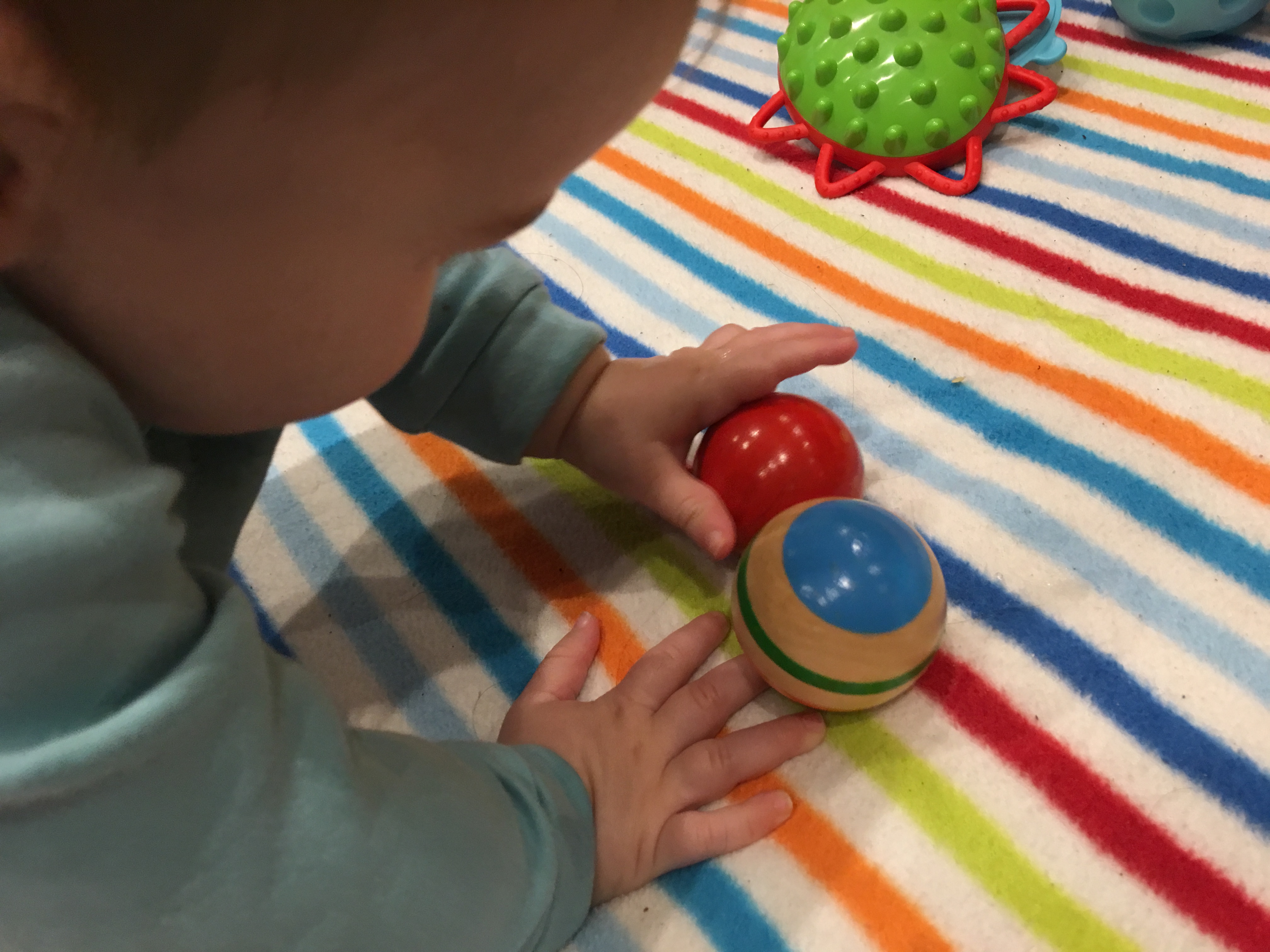 Playing with balls helps babies develop the ability to move objects from one hand to the other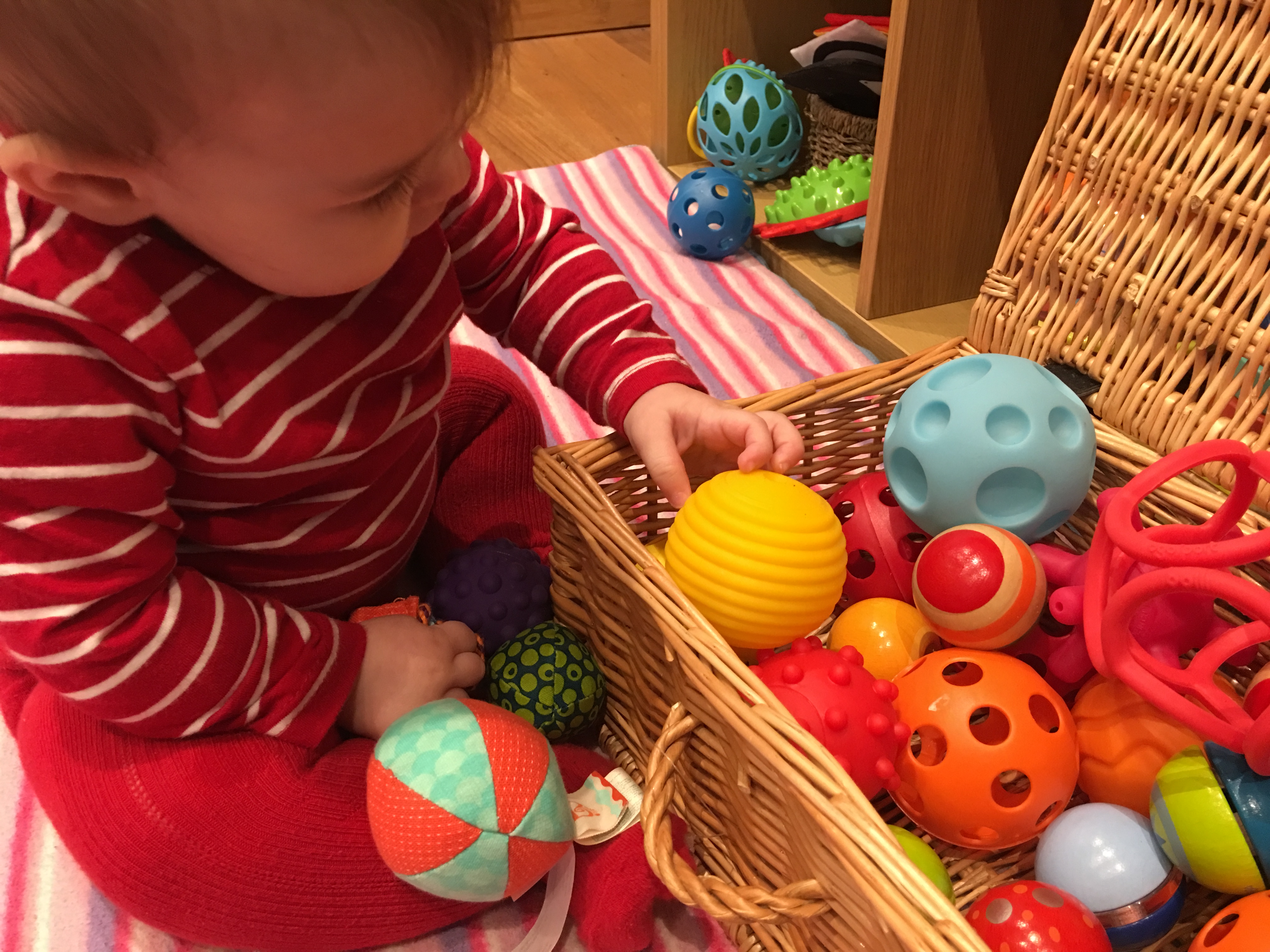 Babies learn through their play about the properties of balls
The differences between different balls
They can begin to understand cause and effect
Balls encourage babies to crawl
To chase the balls that they roll around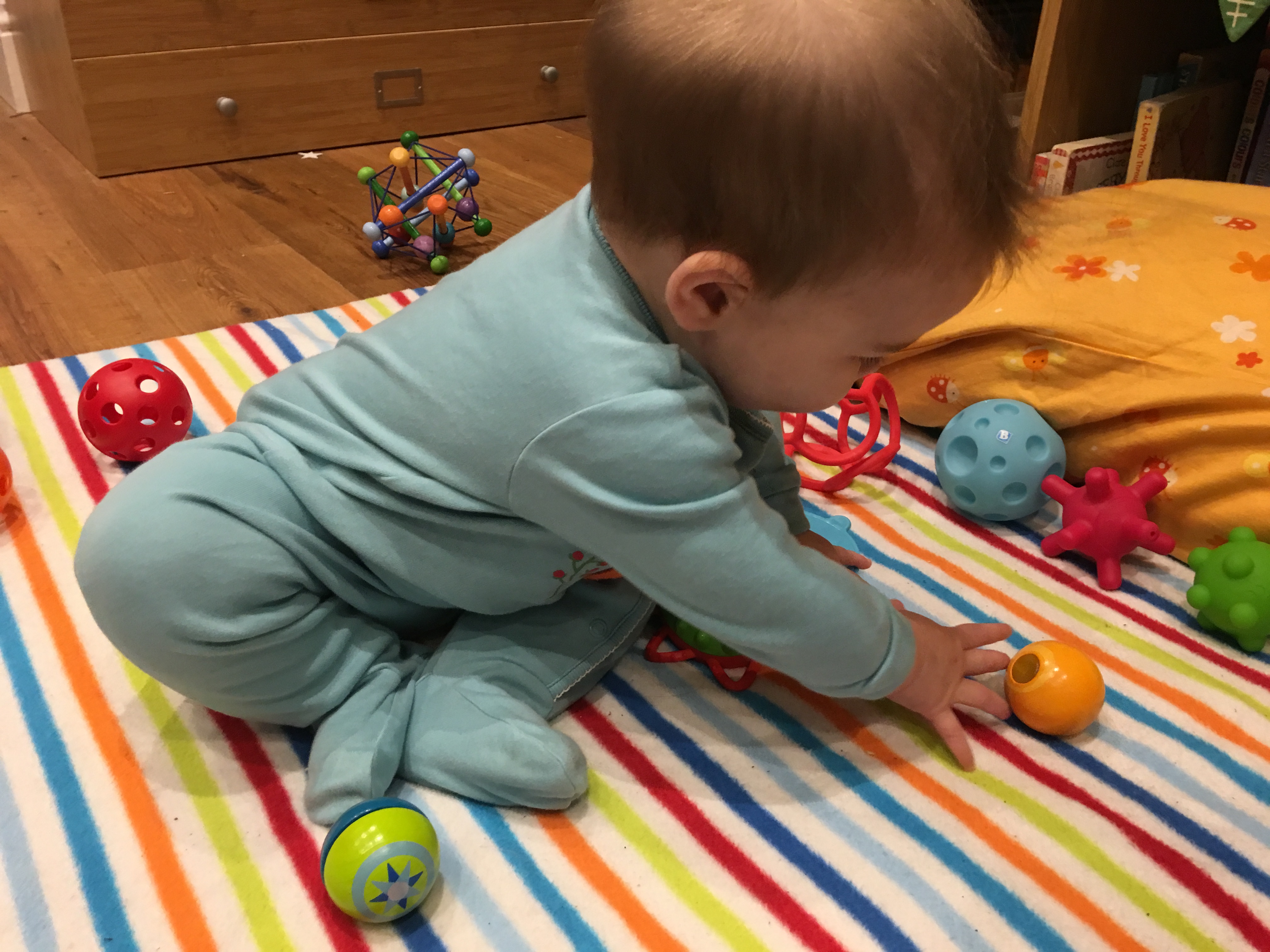 Balls are great for sharing
Rolling back and forth
Balls can be used to introduce turn taking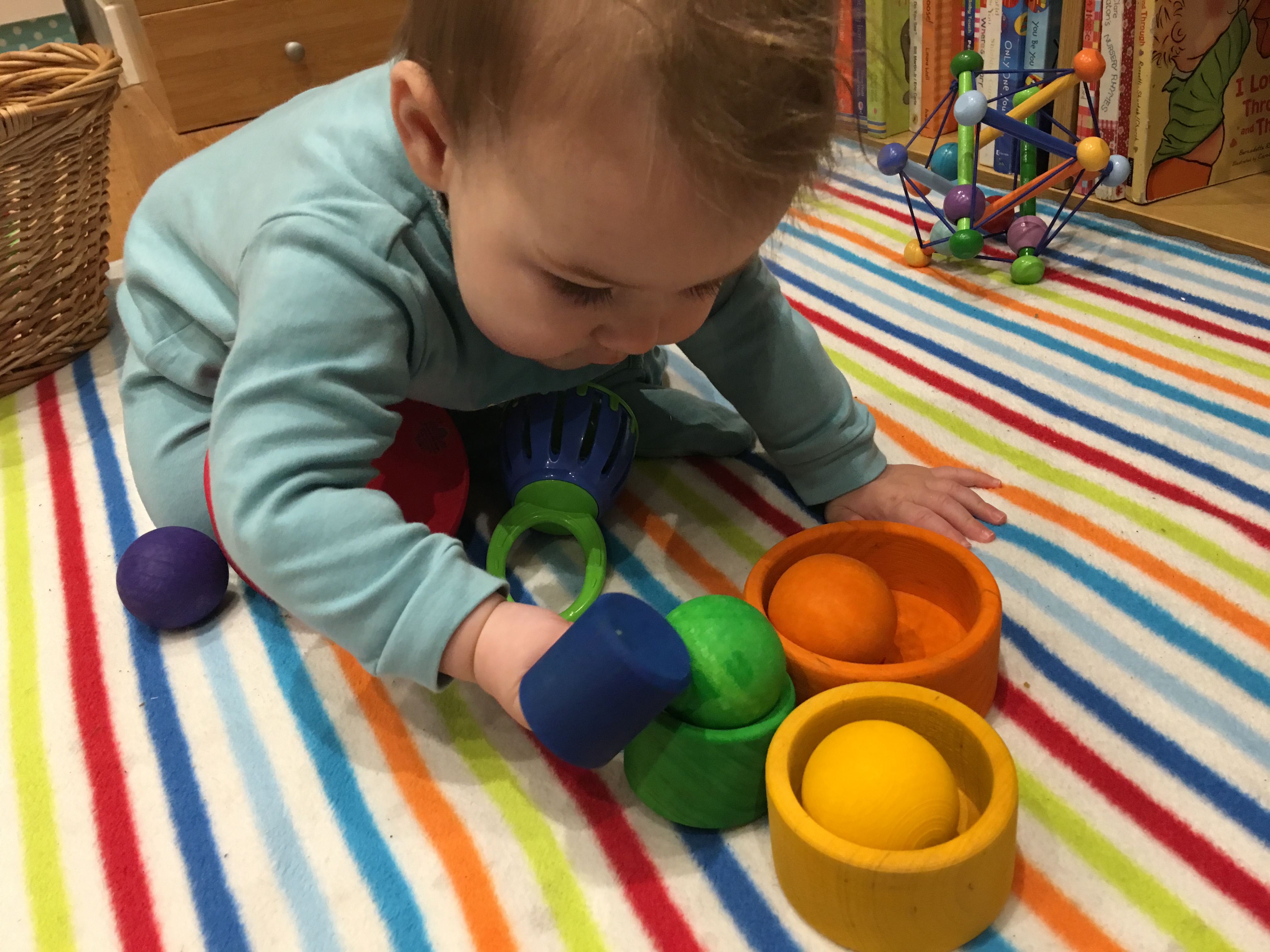 Balls can be used to help baby start to identify colours
And begin putting balls in things
So that they can take them out again!
We have found Grimms rainbow balls and bowls perfect for this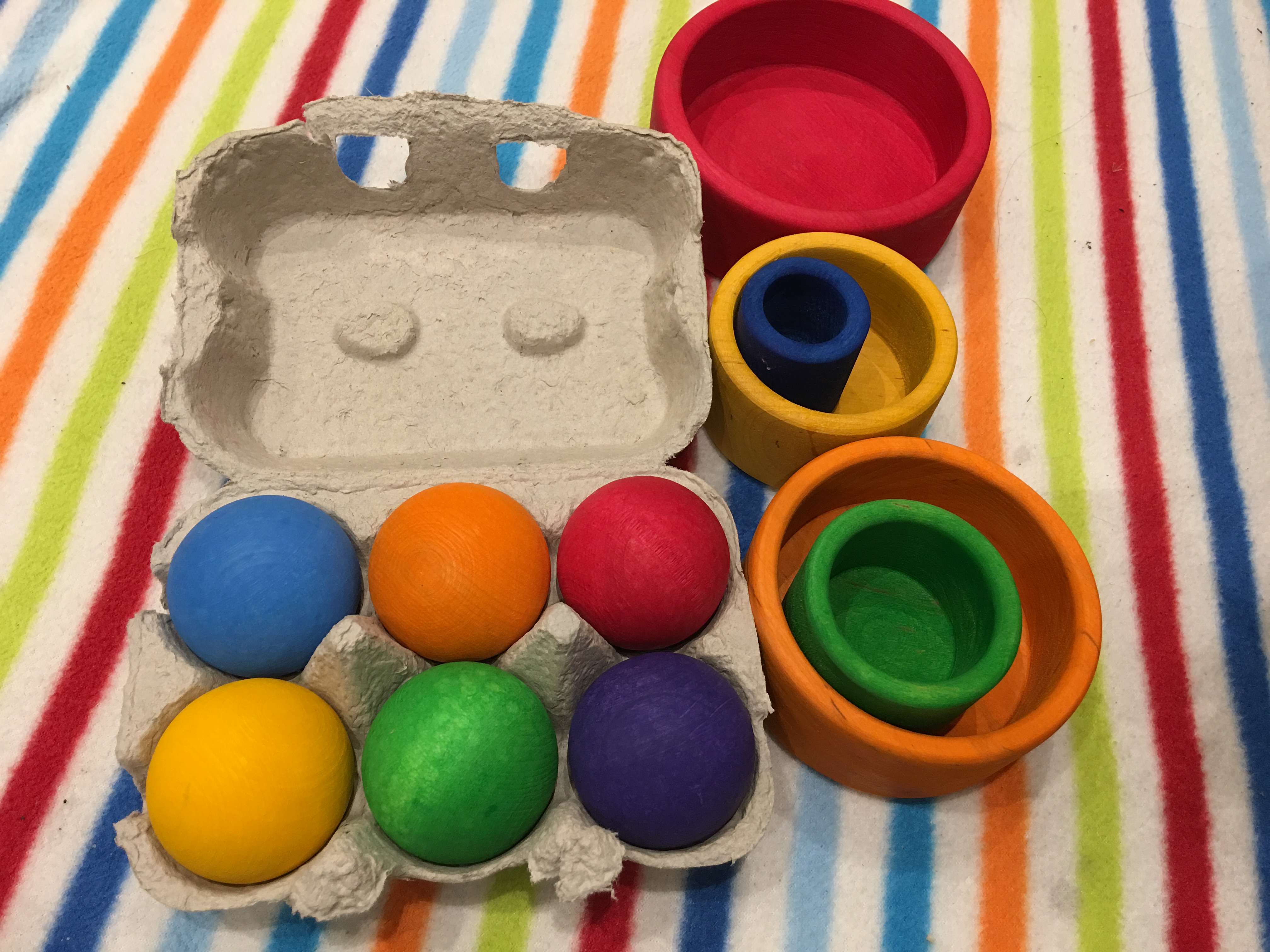 And Grapat balls and bowls too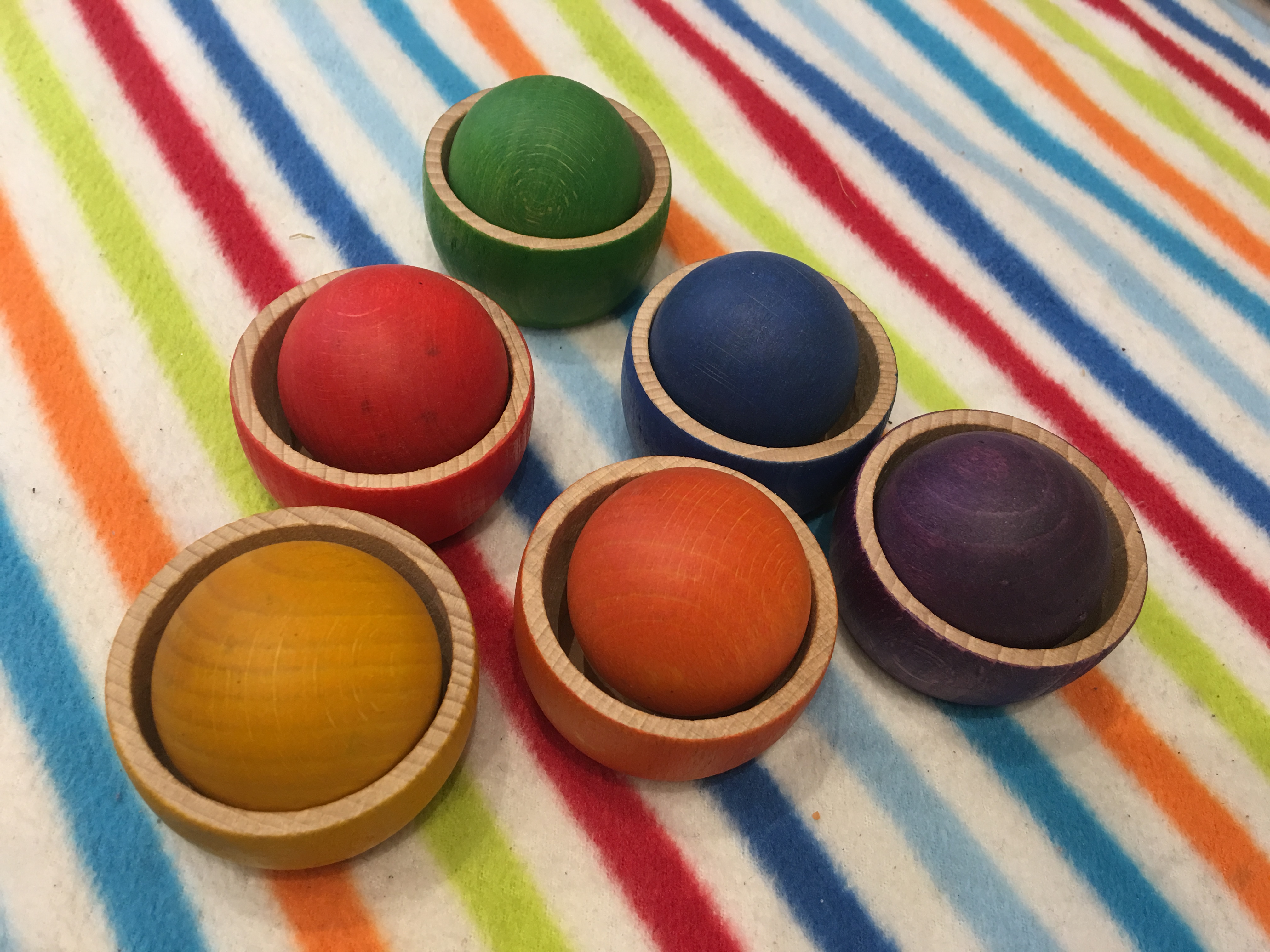 We bought ours from Babipur
The other balls that we have in our treasure basket are
Edie loves these so much
Four unique balls on a teething ring
A baby ball in a mama ball
A bumpy ball to squeeze for funny squeaks
A crunchy, crinkly, patterny fabric ball
A chiming bell hidden in a soft, squeezable ball
These are perfect for sensory play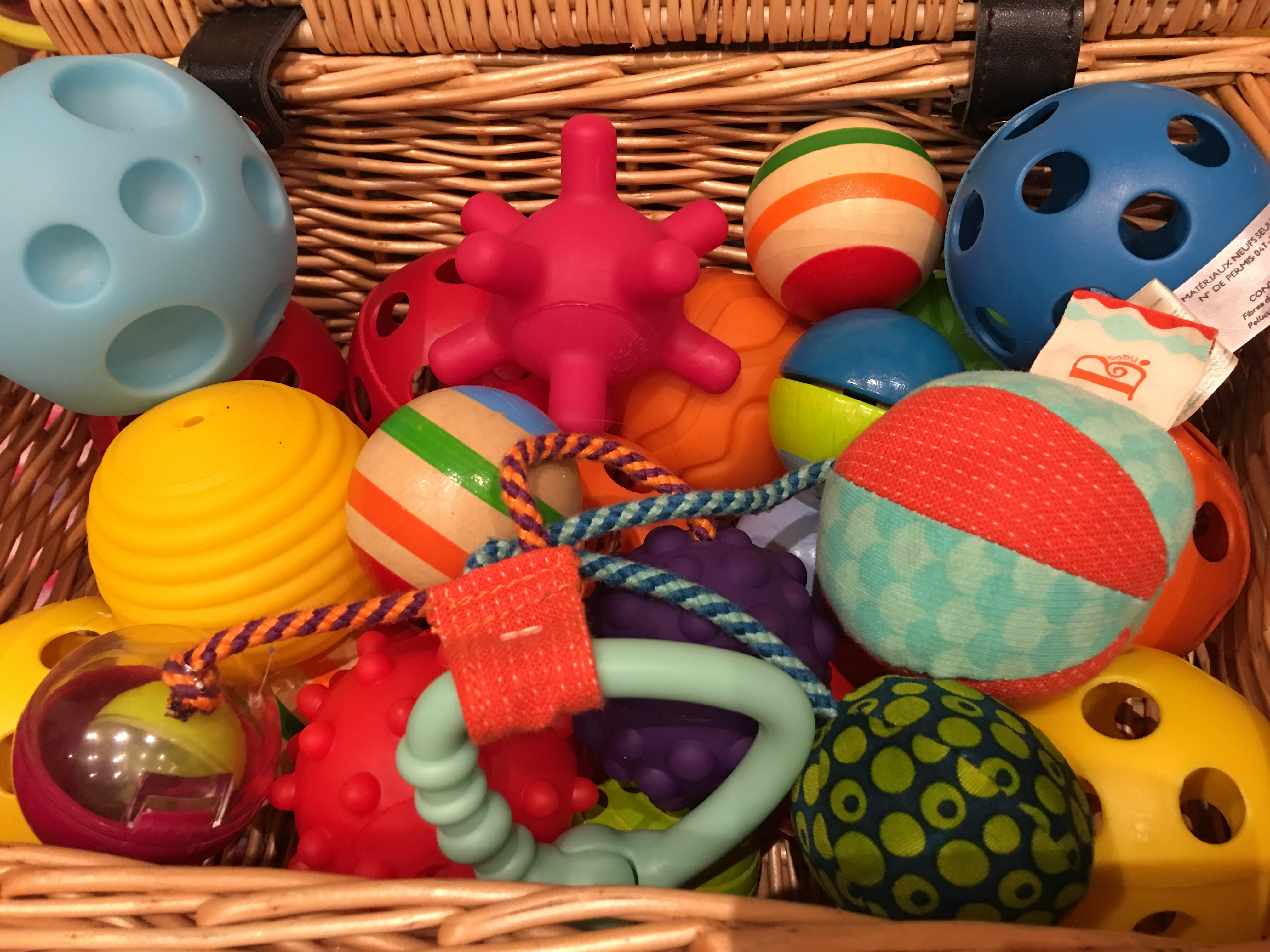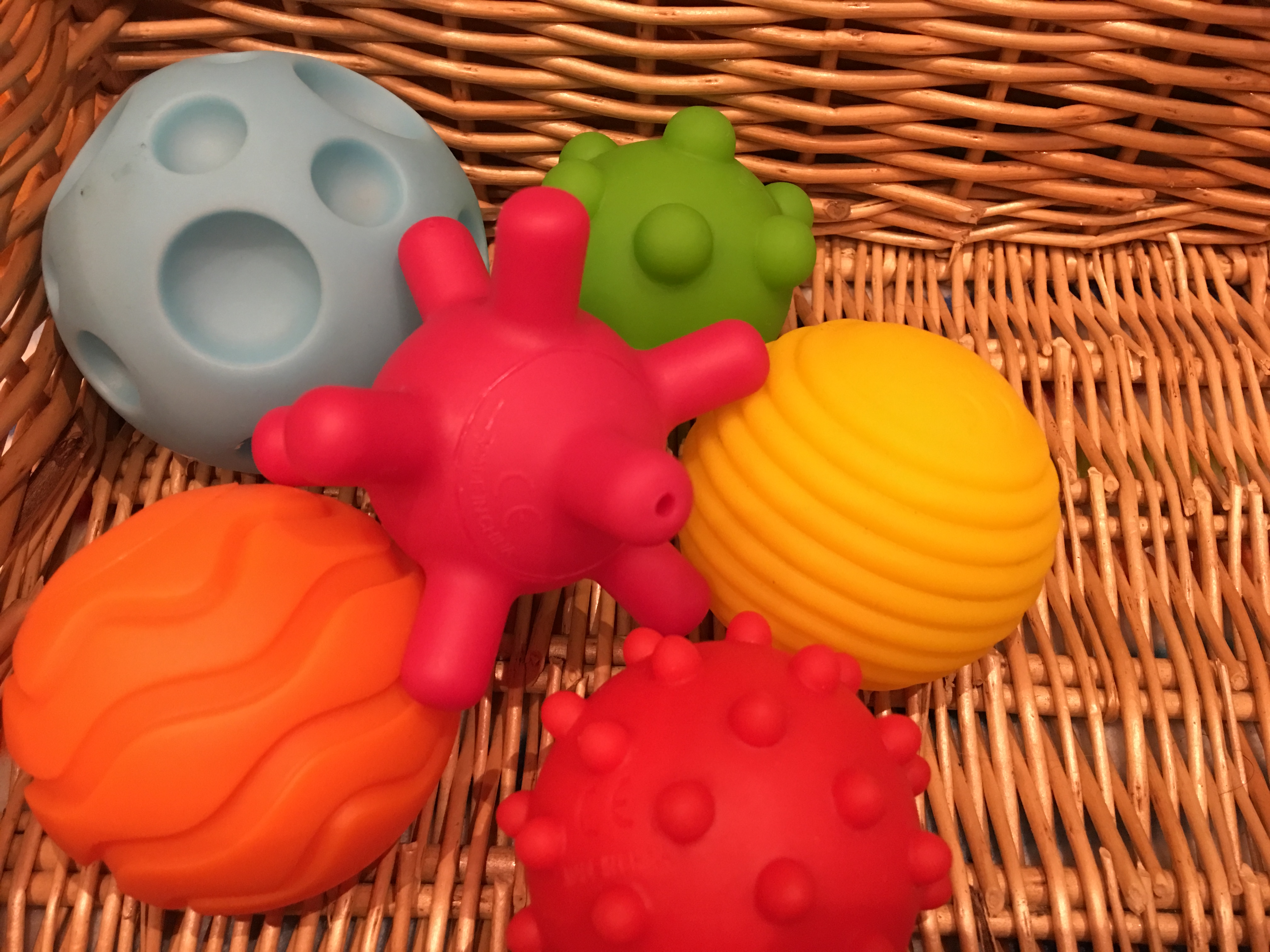 These wooden balls are beautiful
We have had ours for years
All the children love them
They make different sounds
And visual effects when rolled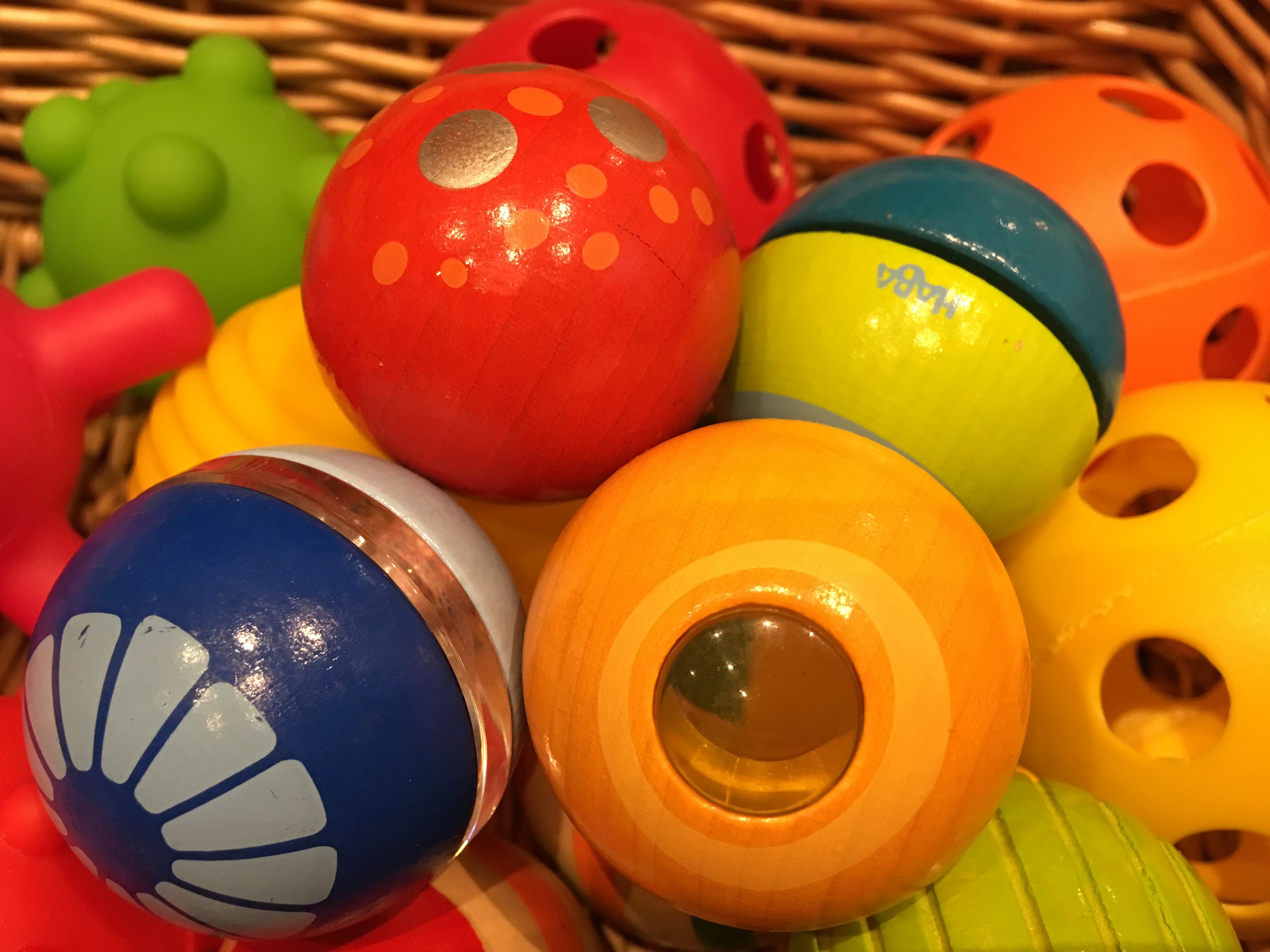 They are the perfect size for little hands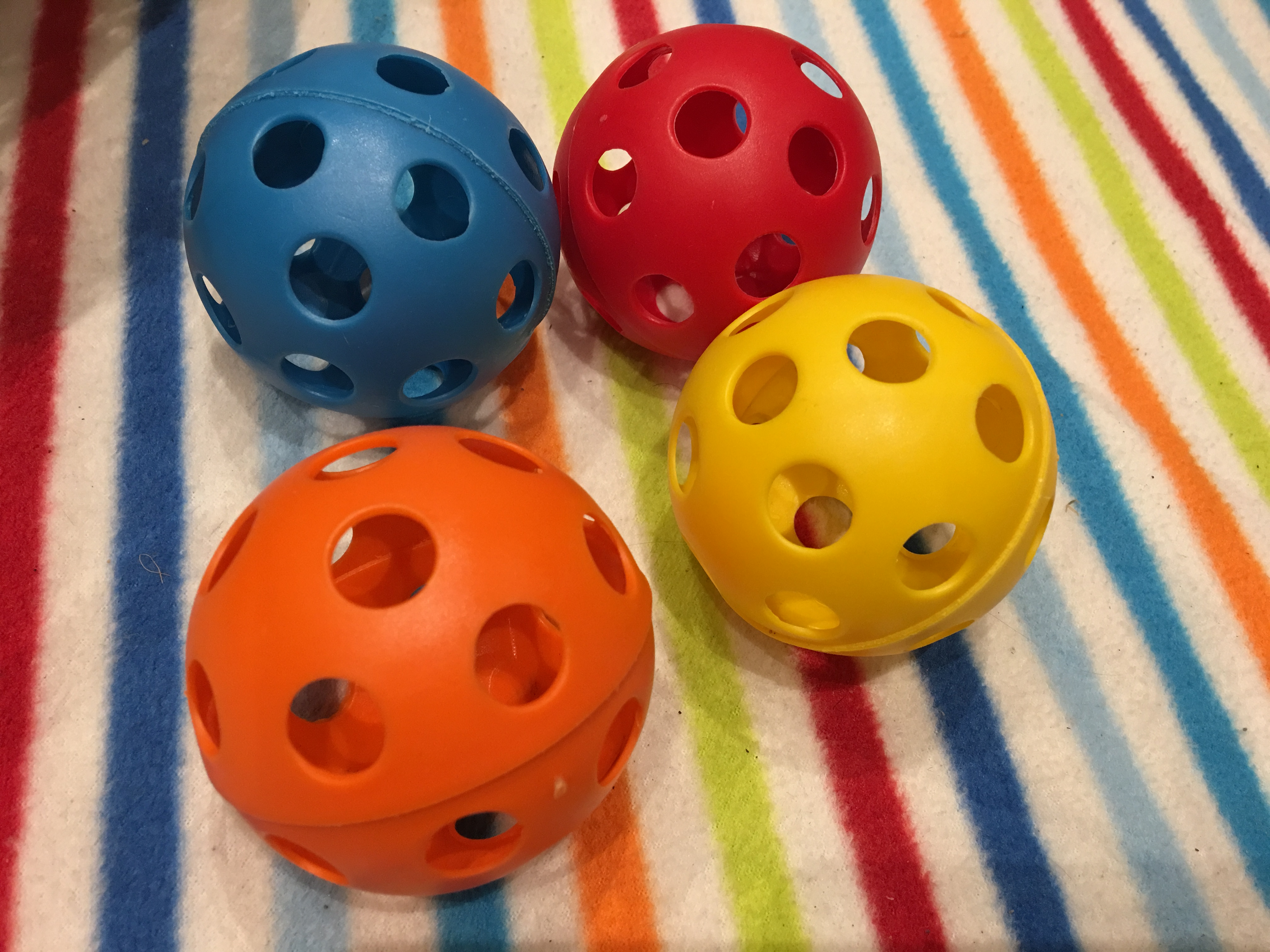 Bolli is a new sensory development ball for kids AND babies
Bolli is great for stretching, manipulating, grasping, and teething
Made from 100% nontoxic, BPA and phthalate free, food grade silicone
The soft and pliable material can be squished and stretched
The open ball design is fantastic for shape exploration
Fine motor skills, grasping, and hand-eye coordination
Bolli is dishwasher and freezer safe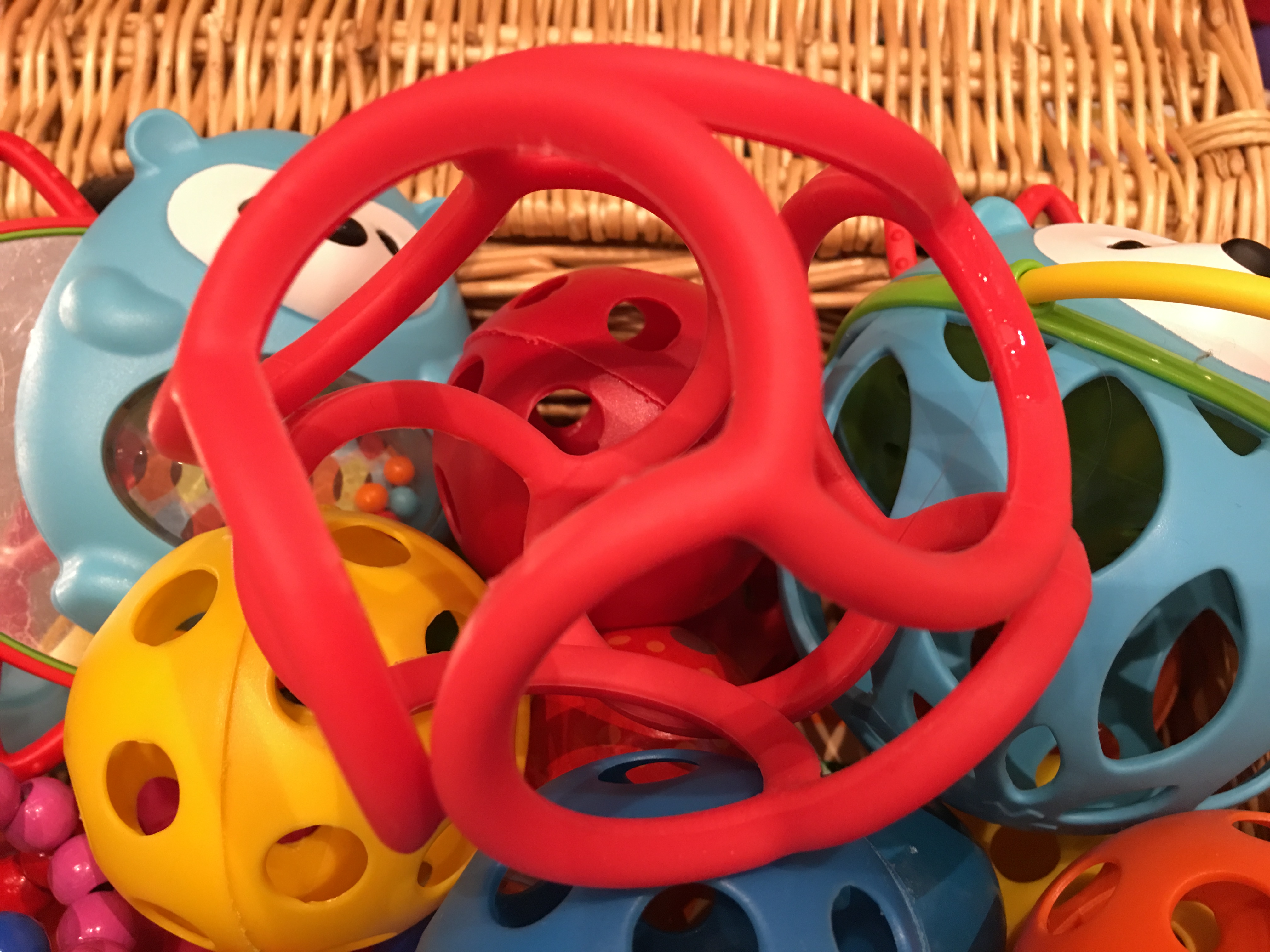 We call this our Jingle Ball
As it makes a lovely jingle bell sound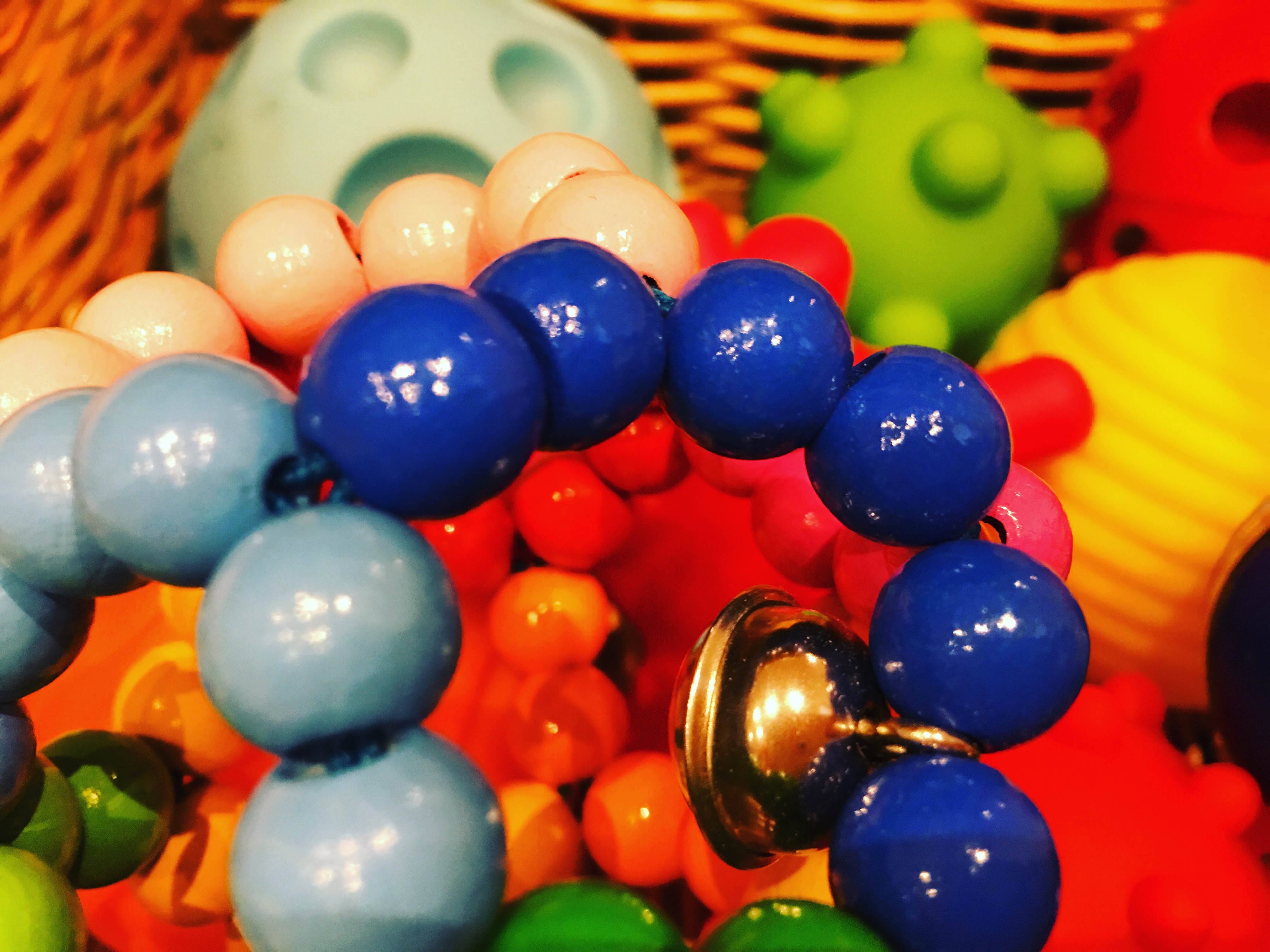 These hedgehog balls are so cute
And perfect for sensory play
Bursting with colour
Soft enough to mouth and chew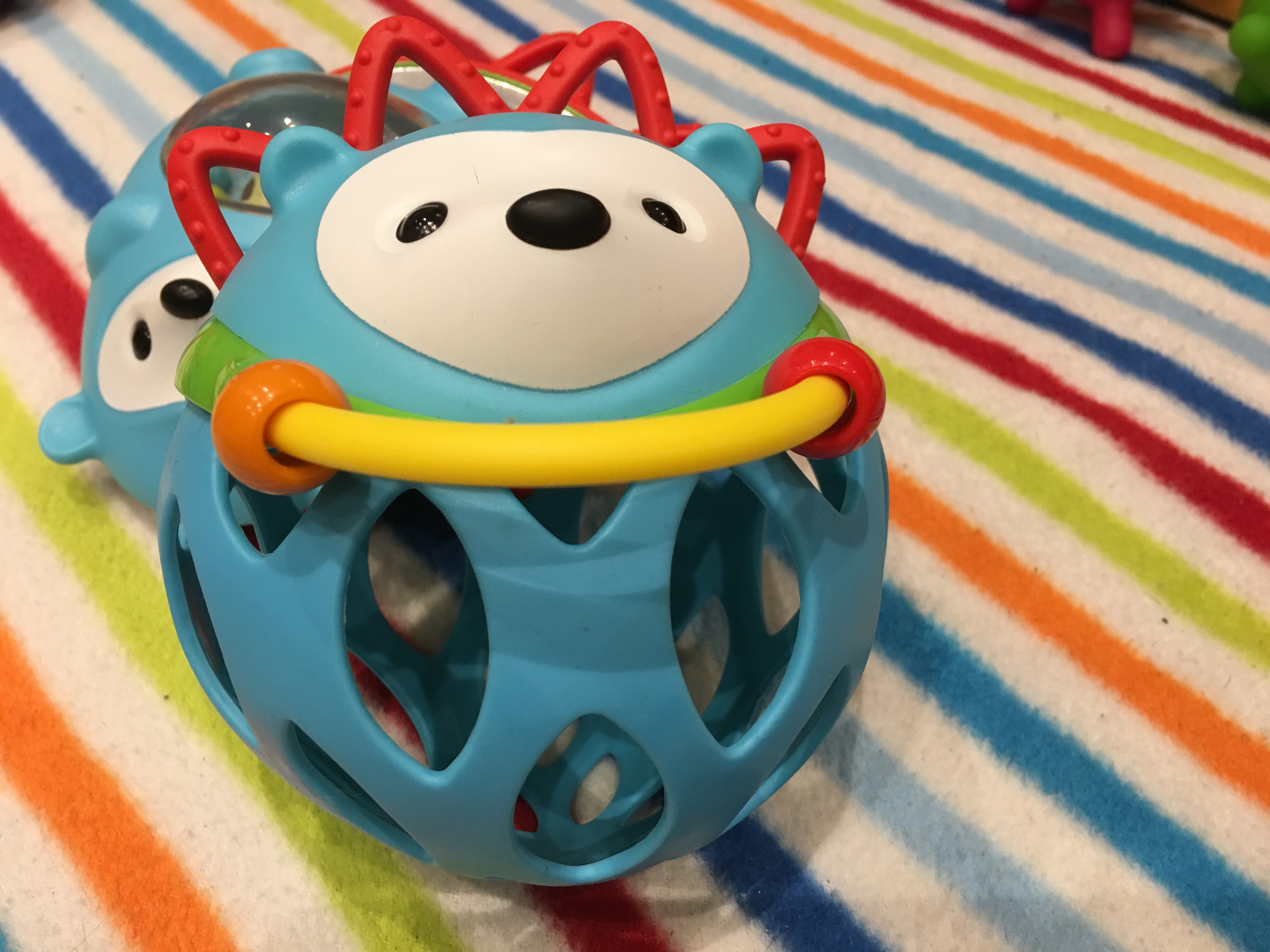 These ball like toys make noises
So baby can learn about cause and effect
As they shake rattle and roll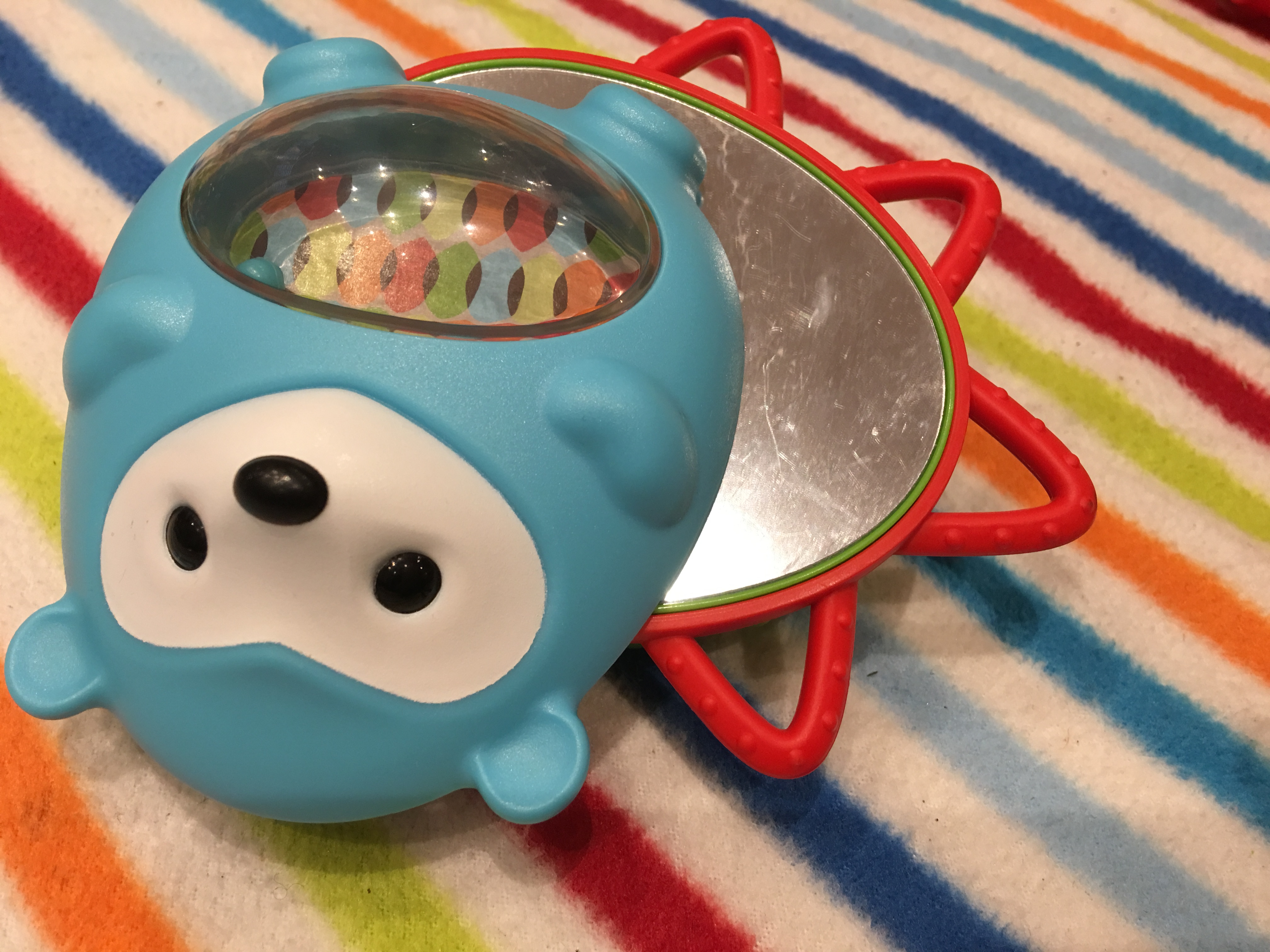 Our basket of balls is a true treasure basket
Bursting with potential
Offering many ways to play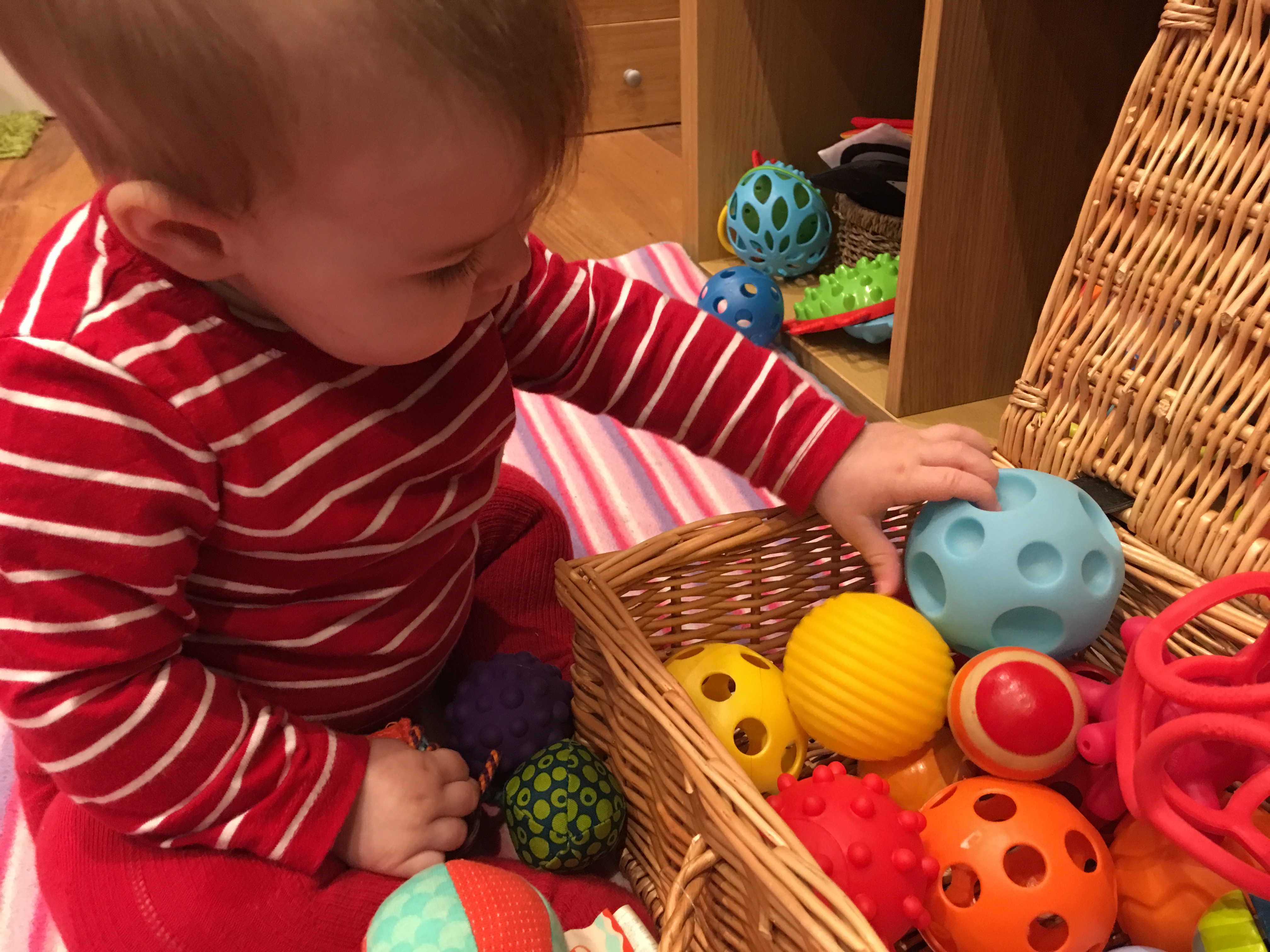 This invitation to play is so easy to set up
And simple to adapt to give your baby new and different experiences
If you find yourself
As we have
With an abundance of balls
You can buy an egg spiral for extra storage
This also acts as a ball track
For baby (and siblings) to drop balls onto
And watch them roll down and round the spiral
It looks fab on display too!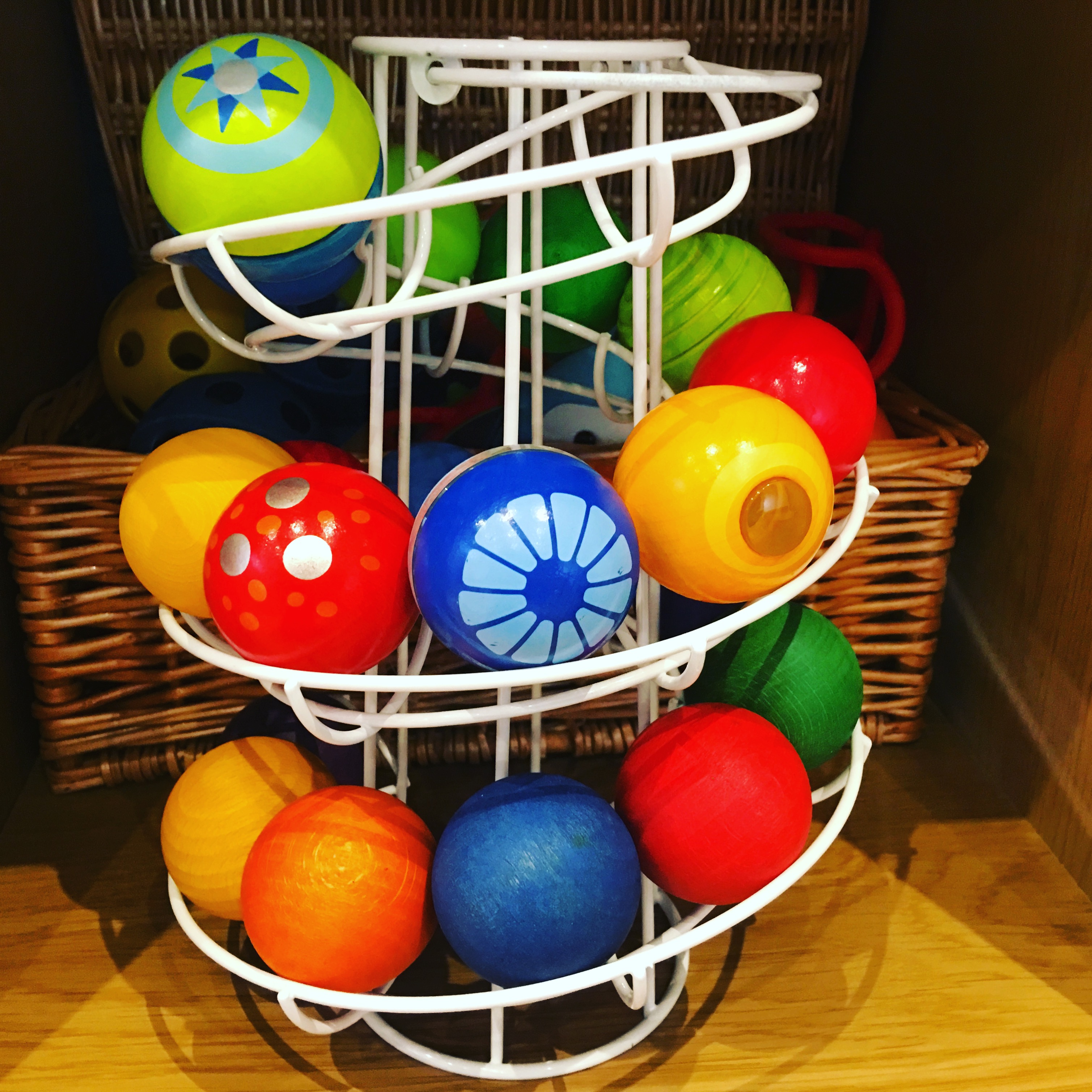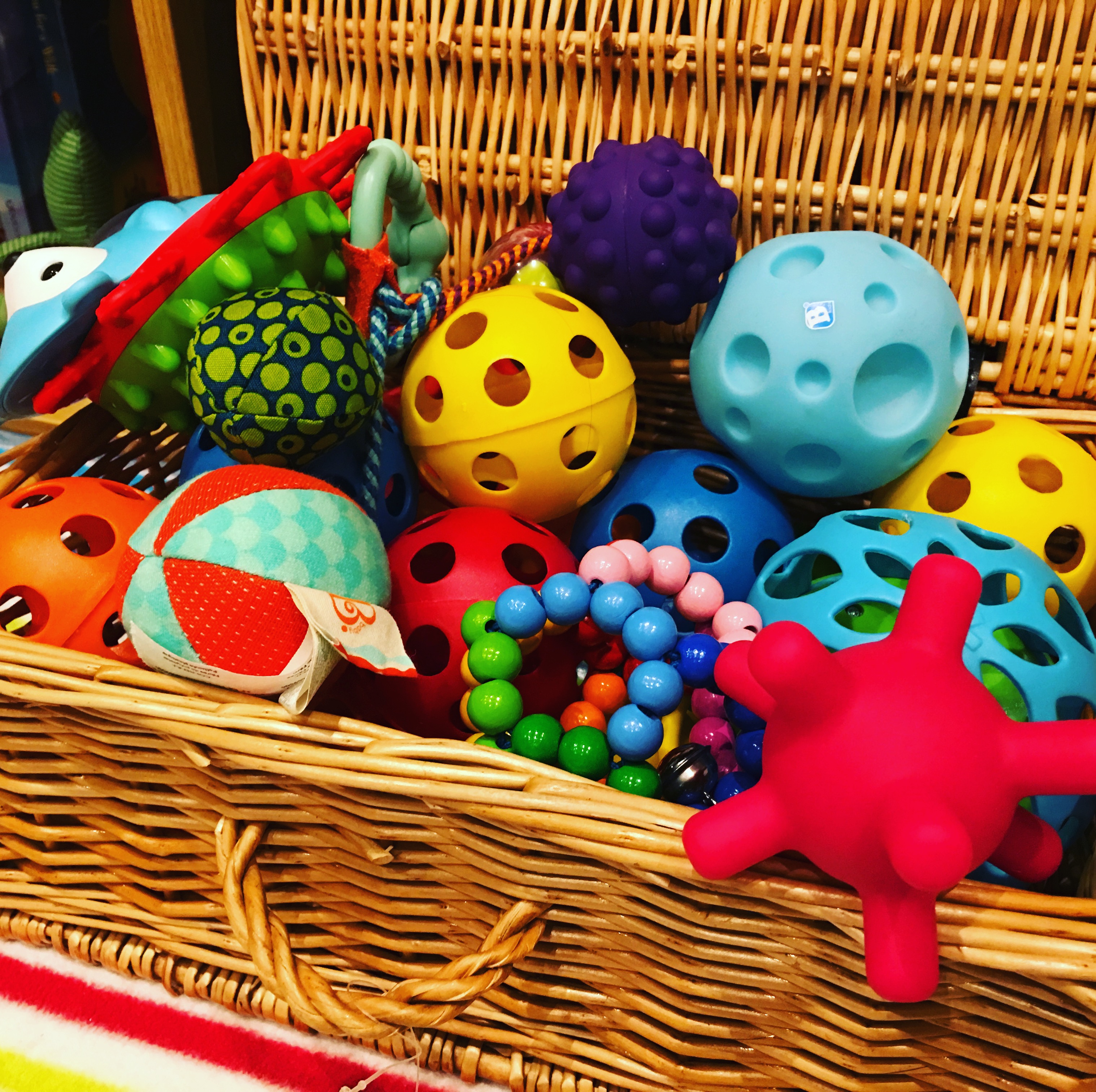 Do you play ball with your baby?
Do you have a ball that we should add to our collection?