This week I ordered a set of stacking cups for Edie
With our Sainsburys shop
They cost £3.25 and have been such great value for money
Stacking cups are a baby play staple
That lasts through the toddler years
And can be enjoyed by all the family
The Grow and Play cups from Sainsburys
Are bright rainbow coloured plastic

They are a brilliant standalone toy
And also perfect accessories for water and messy play
The Sainsburys cups have animal faces on the bottom
And two holes for nostrils
Allowing water to pour through
These are great for the bath
The water table
And the beach!
We also have these nesting cups from ELC
They are again brightly coloured
But this time have numbers on the bottom
Great for ordering, counting and comparing
Learning about size
Can you give the big cup to a big teddy bear
And the smallest cup to a small one?
There are lots of different stacking cups on the market
Here are some of our favourites
These are fun stacking and nesting cups
That also connect together to make a caterpillar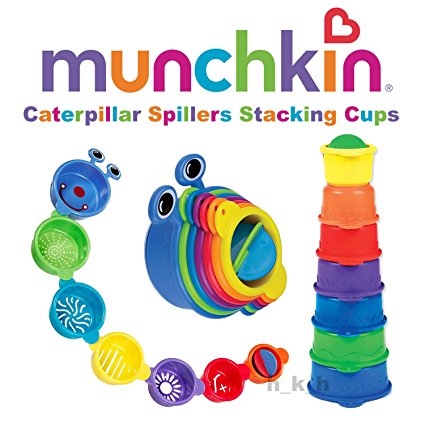 Each cup is a different colour
With a different pattern on the bottom
And also a pattern around the outside
The cups can be used for scooping, pouring, straining, sifting
They are perfect for the bath
For water and sand play
Nuby Splish Splash Stacking Cups
Only 5 cups in this set
Designed with the bath in mind
But perfect for stacking
And for all kinds of sensory play
These cups are great for introducing and developing
Shape identification
They are fun and colourful in design too
This set of six graduated cups is lovely
Providing multiple ways to play
They can be used to scoop and pour water
Build towers
And nests
They are great for basic counting activities
For ordering and comparing
Each cup is numbered on the bottom from 1 to 6
And is volumetrically accurate
If you fill cups 1 and 2, for example
It will equal the volume of cup 3
This Green Toys set is perfect for home, classroom, outdoors, or the tub
A perfect present for a first birthday
And they are star shaped too!
I love the simple stylish design of these
Build them big to small or small to big
For the beach, the bath tub, the sandbox
They nest and store neatly in the large one
Perfect cups for babies to stack and knock over
And these look lovely out on display too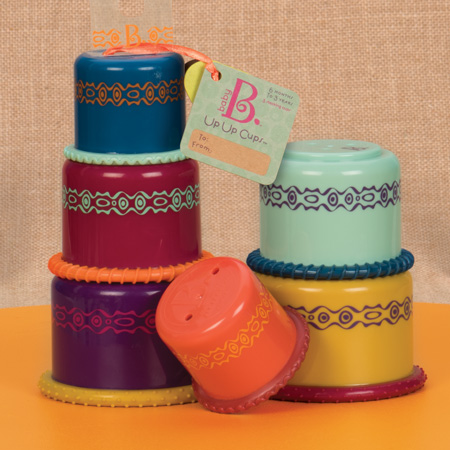 In case you are still not sold on this simple baby toy
Here are 10 ways to play with stacking / nesting cups
1. Build a tower, stack it up and knock it down. Experiment with stacking the cups in different orders.
2. Pour and spill water, scoop and fill with sand, transfer water, build castles in the sand. Fab resources for sand and water play.
3. A cup for a cuddly, a drink for a dolly, a hat for a horse. How many ways can you use these cups with your toys?
4. Portable play, keep a set in your bag for trains, planes, restaurants and queues
5. Use as boats to race in streams, add Happyland people or WOW figures as passengers
6. Use for ordering and comparing activities, introduce numbers, shapes and new vocabulary
7. Use for colour recognition, colour sorting and colour hunts
8. Play hide and seek by placing small items under the cups for baby to find
9. Fill with small objects and water then freeze to make icebergs for children to free the trapped objects
10. Hide around the garden for a treasure hunt, children to find in number order or just find all and stack in order
So very many ways to play
With this simple, timeless, open ended toy
Do you have a set of stacking cups?
How do you use yours?